Pest Control
Have you thought about what makes pest control service great? Our definition of greatness in a pest control service is: Great customer service experience, use of highest quality pest eliminating products, knowledgeable technicians, knowledgeable office staff and actual pest control results.
Here at Midway Pest Management we offer 3 Tiers of Pest Control Service based to meet your specific needs. Each Tier is offered on quarterly basis. Please review the following information and give us a call to schedule your FREE inspection and begin your Midway Experience.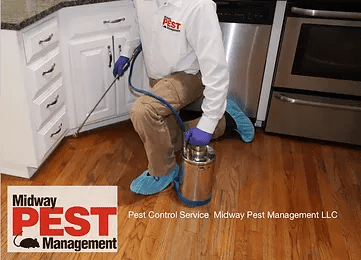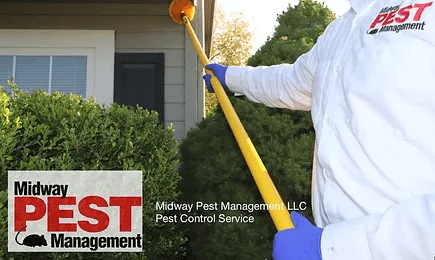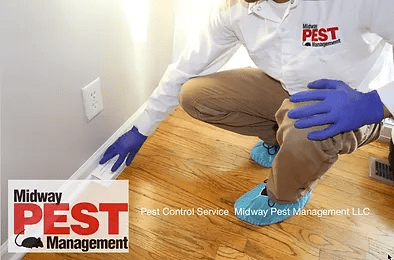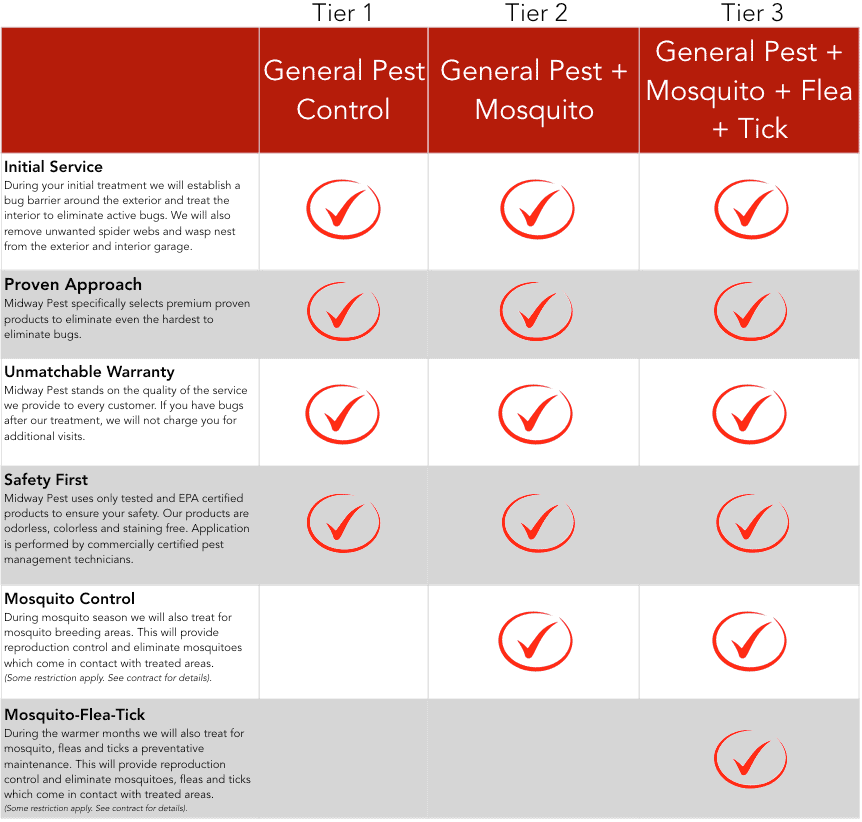 What To Expect
Initial Service
During Midway Pest Management's initial service visit our goal is to begin eliminating active common household dwelling bugs inside and outside your home. Bugs will come in contact active interior and exterior pest barriers which have a continued perimeter protection effect. A service technician will also remove spider webs from the exterior of your home, remove exterior inactive and active wasps nests and apply a bug barrier to the perimeter of your home extending at least 4 feet from the foundation. Treatment will also be applied to the siding along the foundation and extending at least 3 feet up on the siding. This service will set up your pest control service and service warranty. We offer a great warranty as we will return at no additional charge if pest activity should arise in between your quarterly service visits.
Recurring Quarterly Service
Midway Pest Management is committed in keeping your home or place of business pest free. During your recurring quarterly visits Midway Pest Management will continue to maintain the bug barrier along the exterior perimeter of your home to keep bugs away from inside of your home and reducing pest activity on the exterior of your home. Spider webs, active and inactive wasps nests will also continue to be removed when present as part of this service. In addition, while performing regular quarterly visits our technicians are trained and instructed to be on the lookout for other issues such as rodents, termites, wildlife and birds which may be also be making your home their own. If we spot other pest and wildlife issues we will notify you of our findings during our service visit and provide you with service recommendations. Midway Pest Management provides hassle free customer service and we are quick to respond when there is a need for additional services.
What If I See Bugs And I Have Service Set Up?
Please call us back as we are happy to help and quick to respond. Our goal is to provide our valued customers a great pest control experience.