Termite Control

Dealing with a termite infestation can be a nightmare. These tiny pests are notoriously difficult to spot and can cause extensive damage to your property if left untreated.
It's important to have a team of experts on your side that can effectively rid your home of termites and prevent future infestations. At Midway Pest Management, we offer top-notch termite control services in Johnson County, KS using state-of-the-art technology and techniques.
Trust us to protect your property from these destructive pests so you can have peace of mind knowing your home is safe and secure. Protect your home or business with The Sentricon System, the world's most effective method at eliminating subterranean termites.
What Does an Infestation Look Like?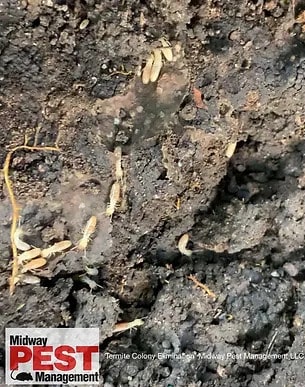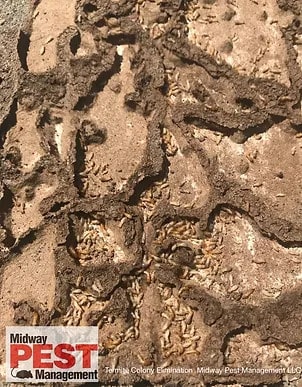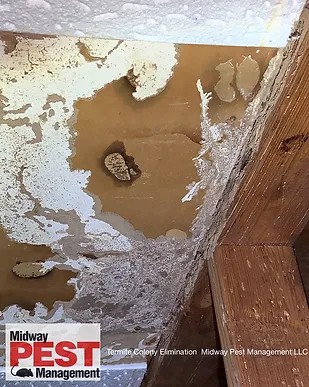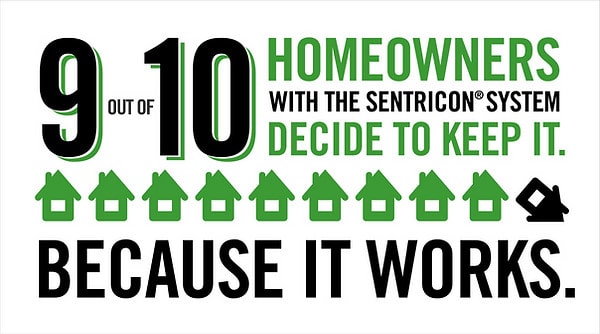 Protect your most valuable investments from active termite colonies. Damage from termites in a home is commonly found inside wall studs or in the form of shelter tubes along foundations, windows or walls. Termites often live in trees, soil, lumber, landscape logs, mulch,and wooden structures. Therefore, wooden structures are at high risk of damage caused by termites feeding. Identification of active termites in a home is key to control and stopping further damage or growth of an active termite colony. Here in the Midwest, the type of termite found which feeds on wooden structures is the Eastern Subterranean Termite (Reticulitermes flavipes) and it is the economically most important termite here in the United States as it causes more the $5 billion dollars in damage each year in the USA.
Preliminary Termite Treatment Inspection
Our state certified commercial pest control technicians will perform a preliminary termite inspection to the structure to identify the presence of active termites, termite related damage, old or abandoned termite shelter tubes or staining indicating active termites or previously active termites.
Termite Treatment
Termite treatment will be recommended based upon findings. If no termites are found it is the perfect opportunity to protect your home or business against costly damages. The Sentricon System is the Stand Alone Solution to eliminate active termites and protect against future termite colony attacks.
Bait vs Liquid Treatments
Real Estate Termite Inspections
Midway Pest Management will perform a thorough visual inspection of your property. Our highly-skilled pest control technicians will check the outside and inside of your property and can even go through the crawl space if available. We'll examine your home from top to bottom for any signs of termites and then provide you with a full inspection report.
Suppose we find signs of a termite infestation. In that case, we can provide you with a termite inspection report of the infested areas, the severity of the termite damage, and an estimated quote for our services to treat your infestation. Our services will include an integrated pest management approach, which eliminates termites from your property and consists of our recommendations on repairing vulnerable points and addressing practices that make your property attractive to termites.
Our team also provides preventative measures if there are no signs of a termite infestation. During our inspection, we also watch out for dry rot, water damage, plumbing leaks, and any other factors that can affect your wood and make it susceptible to termite infestations.
We can recommend ways to address these concerns best and reduce the risk of attracting termites until your next termite inspection.
Signs of Termite Infestation
Termites are destructive pests that can cause serious damage to wooden structures. It is essential to detect termite infestation early to prevent costly damage.
There are many signs of termite infestations. These includes:
Hollowed or damaged wood. Termites eat through the wood from the inside out, leaving the exposed surface intact but hollow. You can check for hollow spots by probing exposed wood with a screwdriver or similar tool. If it sounds hollow or is easily penetrated, there may be an infestation present.
Soft or damaged wood. Termites can cause wood to become brittle and deteriorate from the inside out, making it soft and discolored. You can test for softness by pressing on it with a knife blade or screwdriver. If it feels spongy or gives way easily under pressure, there may be an infestation present.
Mud tubes. These are often found on exterior walls and foundations in areas where termites travel from their nests to sources of food. These tubes are usually about the width of a pencil and indicate that there is an active termite infestation in your building.
Termite swarms. These occur in the spring and fall after rain when groups of winged termites hatch out looking for mates and suitable locations to start new colonies. Seeing a swarm indicates that there is an active infestation at work.
Termite droppings. These can often be seen within walls as sawdust-like material around exit holes made by termites chewing through wood surfaces. Drywood termites produce frass that takes on the appearance of small pellets that may be found near entry points on wooden structures.
Stuck windows and doors. These may indicate a problem with your home's structural integrity due to termite activity damaging surrounding wooden structures making them difficult to operate correctly.
Clicking sounds coming from walls. These could indicate movement from soldier termites guarding their colony; they have large mandibles which enable them to bite through wooden materials
Unusual discoloration of paint or wallpaper mimics cracks caused by uneven application but signals potential termite damage below this surface layer.
Early detection is essential for treating termites effectively before they do considerable harm to your property. Don't wait too long until it's too late to avoid costly repairs.
If you see any such signs indicating a possible infestation present, call Midway Pest Management right away!
Midway Pest Management's Expertise in Termite Control
We provide expert termite control services designed to help protect your home or business from costly and destructive termite damage.
Years of experience in handling termite infestations
With years of experience, and proven techniques and treatments in handling termite infestations, our team has the knowledge and skills needed to effectively eliminate these pests before they can cause serious harm.
Safe and effective termite control techniques
Our safe and effective techniques have earned us a reputation as a top-rated provider of termite control services, with many satisfied customers turning to us time after time for all their pest control needs.
Use of environmentally-friendly treatments
We are committed to providing green pest control, and prioritize the safety of our customers and their property by using environmentally-friendly treatments whenever possible.
Our termite control process
Termite Inspection
Our trained technicians will meticulously inspect your structure to identify any signs of active termites or termite-related damage, including abandoned shelter tubes and staining that may indicate previous infestations.
Termite Treatment
Based on our findings, we will recommend the appropriate termite treatment plan to best address the issue. In cases where no active termites are found, we also offer preventative services to ensure that these pests do not become a problem in the future.
If you're dealing with termites or simply want peace of mind knowing your property is protected against pest infestation – contact Midway Pest Management today! Let's work together to protect your space from these harmful insects for good!
Preventing Future Termite Infestations
Termites can cause significant damage to a home, making it essential to take steps in preventing an infestation. Here are some tips for preventing termite infestations:
Keep an eye out for the warning signs of a termite infestation such as hollow spots in exposed wood, termite swarms, and mud tubes.
Get regular termite inspections from licensed professionals each year to detect early signs of infestation. Regular termite inspections are crucial in protecting your home from potential structural damage caused by termites. By having these inspections, you can identify and address any potential problems before they become more serious, saving you money in the long run.
Schedule regular termite inspections to ensure the safety and longevity of your investment. Get your free quote from Midway Pest Management today.
Reduce moisture around the house by repairing any leaks and ensuring gutters are clear of debris.
Eliminate any wood-to-ground contact by removing wooden debris from your yard and storing firewood away from your home's foundation.
When building or renovating your home, make use of termite-resistant materials like concrete, steel, or pressure-treated wood.
Consider using different treatments like termite baits or liquid treatments to eliminate termites and avoid future infestations in case they take hold anyway.
You could also use natural remedies that have been shown to be effective against termites such as boric acid and orange oil.
Protect your home from the serious and costly damage of termite infestations with Midway Pest Management's comprehensive termite control services. Schedule a consultation with us today.
Benefits of Hiring Midway Pest Management for Termite Control Services
When it comes to termite control, you want a reliable service provider that can address any infestations as soon as possible. Working with Midway Pest Management means you will enjoy the following benefits:
Expect the elimination of termite infestations using proven methods that effectively rid your property of these pests. Our team is equipped with the experience and knowledge to handle even the most severe cases.
Preventative measures are taken to ensure termites don't return in the future. This gives you an added layer of protection against potential future damages and expenses.
We understand that your home is your biggest investment, which is why we take extra care to ensure its protection during the termite control process. Our team is licensed, insured, and experienced in handling all kinds of properties with utmost professionalism.
Expect nothing but top-notch service from our team at Midway Pest Management.
Contact us today to learn more about how we can help protect your home from these destructive pets!
Our Industrial and Commercial Pest Control Service
As a business owner, it can be tough to maintain a positive image in the eyes of the community. At Midway Pest Management, we understand how crucial it is to protect your reputation from invasive pests like insects, rodents, birds, and wildlife.
That's why our team works hard to provide only the highest-quality commercial pest control services to businesses throughout the Kansas City Metro area. With our help, you can rest assured that your business will remain pest-free and maintain its positive image for customers and employees alike.
Contact Midway Pest Management for Termite Control Services
Protect your home and business from the damages caused by termite infestations. Acting quickly is crucial when it comes to these unwanted pests, as they can wreak havoc on your property in a short amount of time.
Don't hesitate to contact Midway Pest Management, the leading pest control company, for our pest control service that will eliminate termites before more damage can occur.
Call us at 9138209737 or reach us via our website. Our friendly team is available to assist you with all of your pest control needs. Choose Midway Pest Management today for reliable and effective termite control and removal solutions.