Best Pest Control in Johnson County, KS
Attention Johnson County Home Owners:
"You Will Get the Most Thorough, Professional Pest Control Service You Have Ever Seen... I GUARANTEE it... or it's FREE!"
Luis Gonzalez - Owner/President
Call Today 913-820-9737 for a
FREE Consultation & FREE Estimate!
Our Unmatched, No Risk, No Bull, "100% Make You Happy" Money-Back Guarantee!
Dear Johnson County Home Owner,
My name is Luis Gonzalez. I'm in the pest and wildlife control business. I own and operate Midway Pest Management LLC in Olathe, Kansas.
If you're like most homeowners, you're not really an expert when it comes to bugs, rodents or wildlife. However, you do want to protect your home, family and pets from unnecessary damages and exposure to serious diseases.
But, how do you actually know who to trust and who's giving you the best advice and the best price? It really can be confusing. And it's a fact, nobody likes to waste money on inferior goods and services. I'm sure you'd agree.
Actually, if you're considering hiring a pest control company, you should get at least two different estimates, preferably three. Compare companies. Then choose the one that feels right for YOU.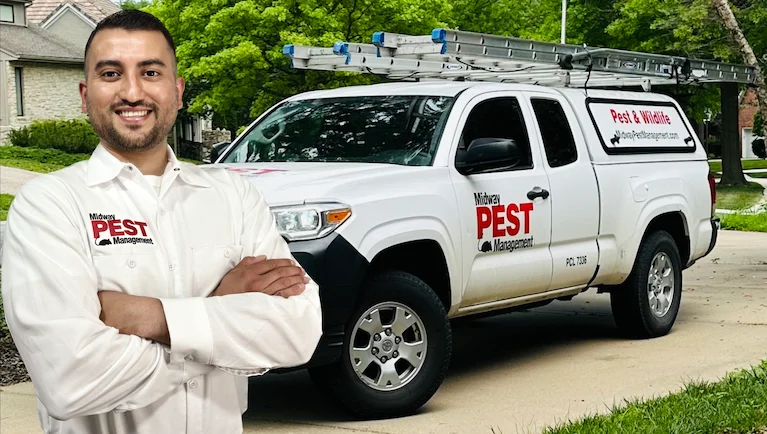 Why would I tell you to call another company? The answer is simple. we are so confident in our expertise in pest control and wildlife control, and in our commitment to solving your pest problem and making you happy, that I am willing to place MY NAME….and MY MONEY….on the line to prove it. My Personal No Risk, No Bull, "100% Satisfaction" Money Back Guarantee: If you hire us to get rid of your insect problem and, at the end of 30 days, you are not 100% HAPPY, we will come back and retreat your home for FREE. And we'll keep on treating it for FREE until you tell us you ARE happy. If that still doesn't make you happy, I'll promptly and politely give YOU back every penny of your money, plus an additional $25.00 for your time and trouble….period.
Bottom line is this: Pest control work is serious business. It involves the use of chemicals and pesticides in and around your home, your family and your pets. If going with the cheapest price just to save a few bucks is all you're looking for, then we are definitely NOT the company for you. Cutting corners in this business can end up being something you seriously regret later on, in more ways than one. That's just not the way I do business. Never have and never will. Listen…..I want to be YOUR BUG MAN! I want the chance to EARN your business. Please don't hesitate to give me a call if I can ever help you in any way. Thanks for reading this letter….and have a great day!
Luis Gonzalez, Owner/Operator Midway Pest Management LLC, Olathe, KS
PS. Mention this letter and get $25.00 OFF your first quarterly pest control service!
"We have been customers with Midway Pest Management for almost 6 years, and have ALWAYS experienced exemplary service. Whether it is on the phone scheduling a visit or talking to any of the technicians that come to your home to complete treatment, they are unfailingly kind, professional, knowledgeable, and helpful.
I have to especially thank Luis; he has gone out of his way to be kind to my boys and has watched them grow up. When I contacted him recently about a wasp problem that got out of hand and made them worried to go outside after being stung, he was able to treat the whole house right away. He explained what to look for and expect, and followed up a few days later to see if another treatment was needed. When I reported a significant decrease in activity but that there were still a couple of problem areas, he came back that day to treat again. These treatments were included with our quarterly pest control, which was wonderful, but even better were the looks on my boys' faces when I told them Luis had been there and they could feel safe going outside again! We will continue to be loyal customers – thank you so much Midway!!" – Jamin Landavozo Olathe, Kansas 66062
Scroll down to read more reviews!
Reviews
See what our costumers are saying about us
Unwanted Guests In Your Home?
From Overland Park to Olathe, local residents face pests like bed bugs, termites, ants, rodents, mosquitoes, spiders and cockroaches. These nuisances can cause damage to property and even health risks for you and your family. Midway is dedicated to dealing with these pressing issues so that homeowners in Johnson County can live free of fear or mess from pests.
Peace of Mind with Proven Results
We use methods that ensure an effective solution for every pest problem we face. Our products provide safe remedies so no one gets hurt.
Our pest control service has years of experience so we're ready to take care of your annoying pest problem.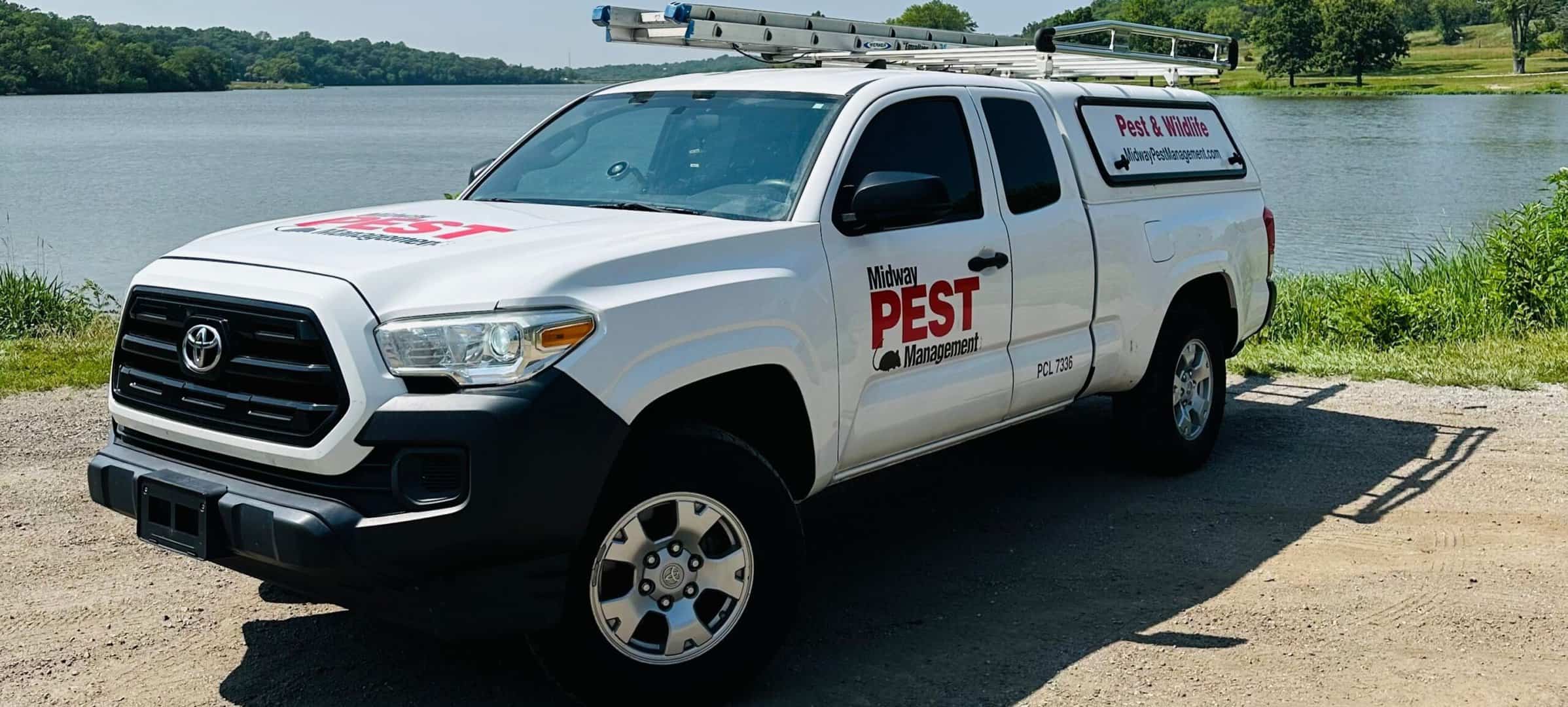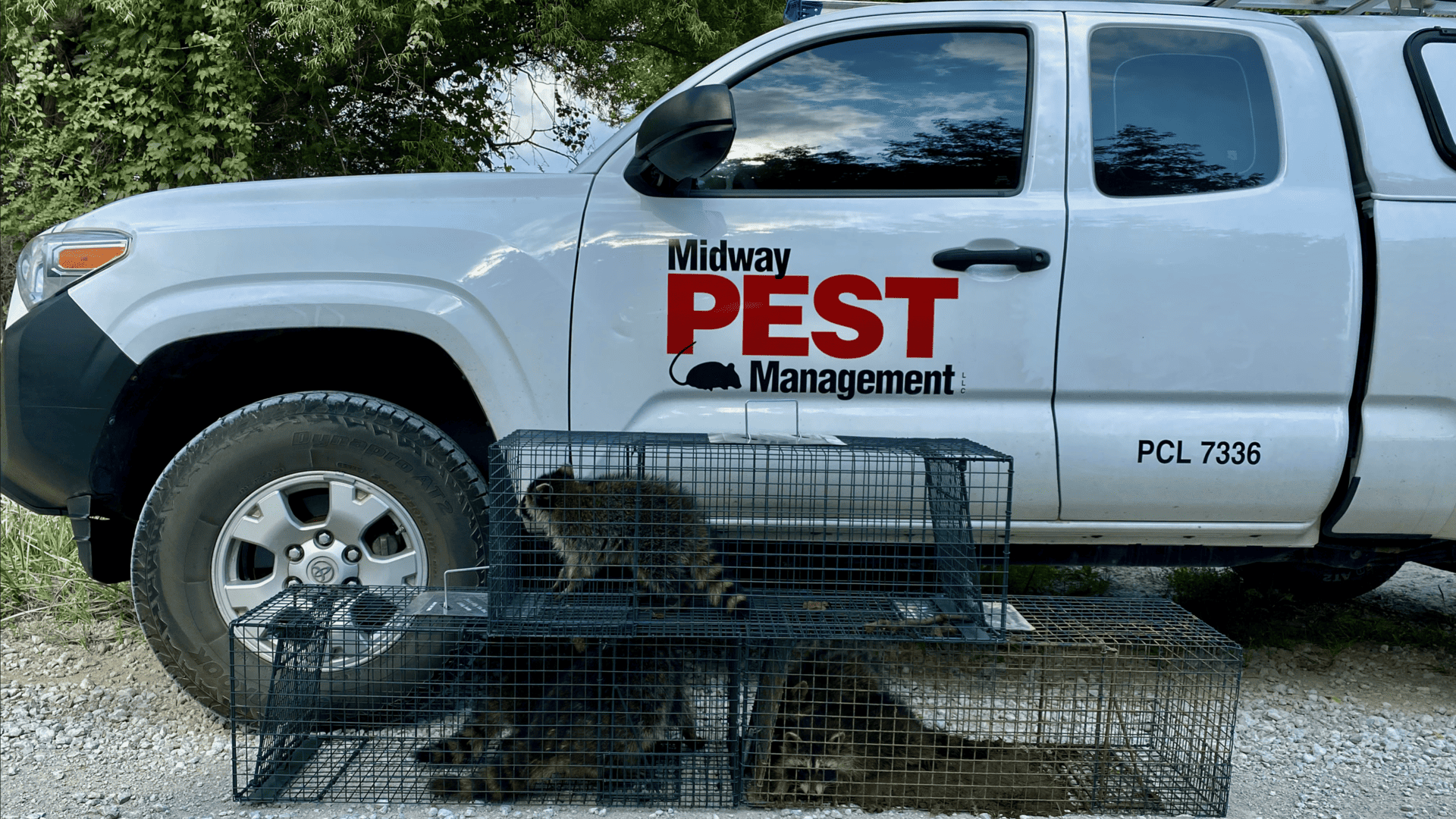 Pesky Pests Threaten Homes and Businesses
There's nothing worse than pests or wild animals invading your home or business. From food contamination to structural damage, they can bring problems and destruction everywhere they go. Whether it's residential or commercial properties, wildlife removal or exclusion measures, Midway Pest Management can keep pests out of your home or business. We identify the kind of pest, assess the situation, devise a customized plan, and execute it. We understand each situation is unique and offer solutions tailored to you. Put an end to the menace of pests for good with help from Midway Pest Management.
How We do It
By utilizing proven pest control methods, our expertise guarantees top-tier results in a safe and efficient manner.
Inspection
 At Midway Pest Management, our process begins with an expert inspection. Our trained technicians assess the pest issue and identify any potential points of entry in Johnson County KS. They then create a plan to treat the pest infestation according to the scope of the problem.
Treatment
Using advanced techniques and quality products, we move forward with treatment for your home or commercial business. We will determine the most effective method to address the pest problem, whether it be baiting, trapping, or spraying, based on the size and type of pest.
Follow-up
Successful control may require additional visits. Some pests are quick to eliminate while others may require follow ups. Our team will check for residual activity of pests and take action if necessary so you can stay protected from infestations for longer periods of time. Bottom line we want you to be happy and your pests gone.
Expertise
With an Entomologist on staff, years of experience in pest management knowledge and hands-on practice and our technicians know exactly how to deal with every type of insect, rodent, or wildlife invasion without fail at your residential or commercial property. Powered by industry know-how and continuous education standards, they have become a reliable resource when it comes to removing nuisance pests from homes and businesses alike in Johnson County KS.
Customer Service
Our customers come first every step along the way – that's why we prioritize customer satisfaction over all else here at Midway Pest Management! If you're unhappy with an aspect of our service during any stage throughout your entire experience – from consultation through post-treatment follow up – we guarantee something will be done promptly to make it right while offering peace of mind when it comes to getting rid of bothersome critters this season!
Our Services
Midway Pest Management offers total pest control solutions to meet the needs of homeowners and businesses across Johnson County KS. 
We employ experts in the field who use proven methods to rid you of your pest problems quickly and effectively. As seasoned pros, we're familiar with all the local restrictions – guaranteeing a safe, compliant result every time.
Mice & Rat Control
Eliminate mice and rats from your home or business with traps, baits, exclusion, sanitation and monitoring.
Rodents & Wildlife Control
Remove squirrels, raccoons, skunks, opossums and other wildlife from your property with humane trapping and relocation.
Attic Insulation Restoration
Restore your attic insulation after rodent or wildlife damage with removal, disinfection, deodorization and installation of new insulation.
Pest Protection Programs
Protect your home or business from common pests such as ants, cockroaches, spiders, flies etc. with monthly or quarterly treatments.
Residential Pest Control
Customize a pest control plan for your home based on your needs and budget. Includes inspection, treatment and prevention of pests.
Commercial Pest Control
Provide a pest-free environment for your customers and employees with industry-specific solutions for food service, hospitality, health care etc. Includes audit support and documentation.
Bat Removal Services
Safely remove bats from your attic or chimney with one-way doors that allow them to exit but not re-enter. Includes sealing of entry points and cleanup of guano if needed.
Termite Control and Prevention
termite activity in your home or business with visual inspection or monitoring stations. Treat termite infestations with liquid or bait treatments depending on the type of termite. Prevent future termite damage with annual inspections and warranty plans.
Bed Bug Control
Eradicate bed bugs from your home or business with heat treatment that kills bed bugs at all life stages in one day. Includes pre-treatment preparation checklist and post-treatment follow-up inspection.
Bird Control
Deter birds such as pigeons, sparrows etc. from nesting or roosting on your property with bird spikes, netting, wires etc.
Exhaust Vent Clean-Out
Clean out lint buildup in your dryer vent to prevent fire hazards and improve efficiency.
Why Choose Midway Pest Management?
At Midway, we believe that quality pest control services should be accessible to everyone, regardless of their budget. We understand that dealing with pests can be stressful and time consuming, which is why we commit to providing our clients with the highest level of professionalism and expertise, along with friendly, responsive, and flexible customer service.
Quality
Our licensed technicians stay up-to-date with the latest pest control techniques and technology to ensure they deliver results beyond expectations. We only use methods and products that are safe for both humans and pets.
Professionalism
We take pride in our work, always striving to exceed our clients' expectations by following industry standards and best practices for pest management services.
Customer Service
Our team is available throughout the pest control process to answer any questions or concerns you may have about our services. We offer free estimates for all our services to make sure that you get what you pay for.
Affordability
Competitive pricing is also at the heart of what we do here at Midway as it allows us to provide quality pest control services without breaking the bank.
Proven Reputation
Don't just take our word for it–our company has received multiple positive ratings and reviews from reputable sources such as Porch, Yelp, and Google. With Midway Pest Management you will experience a difference you can trust!
Get Your No Obligation Free Estimate
Don't let pests take over your home. At Midway Pest Management, we know how to eradicate them properly and completely – no job is too big or small for us! We believe in offering solutions tailored to your needs rather than generic packages that don't get to the heart of your problem. That's why before starting a project we offer all potential clients a no obligation free estimate so they know exactly what they're getting into.